Explore
History
Pine Island is steeped in the history of the ancient Calusa . . .
Calusa Indians are thought to have inhabited the island in peace from 30 AD until 1513 when it's believed Ponce De Leon landed on the west side of Pine Island. The Spanish not only fought the Calusa but introduced diseases from which they had no immunity, wiping them out by the 1700s. An important archaeological dig is located in Pineland, a small community on northwest Pine Island thought to have been the center of the Calusa civilization.
For more information about the Calusa Indians be sure to visit the Randell Research Center.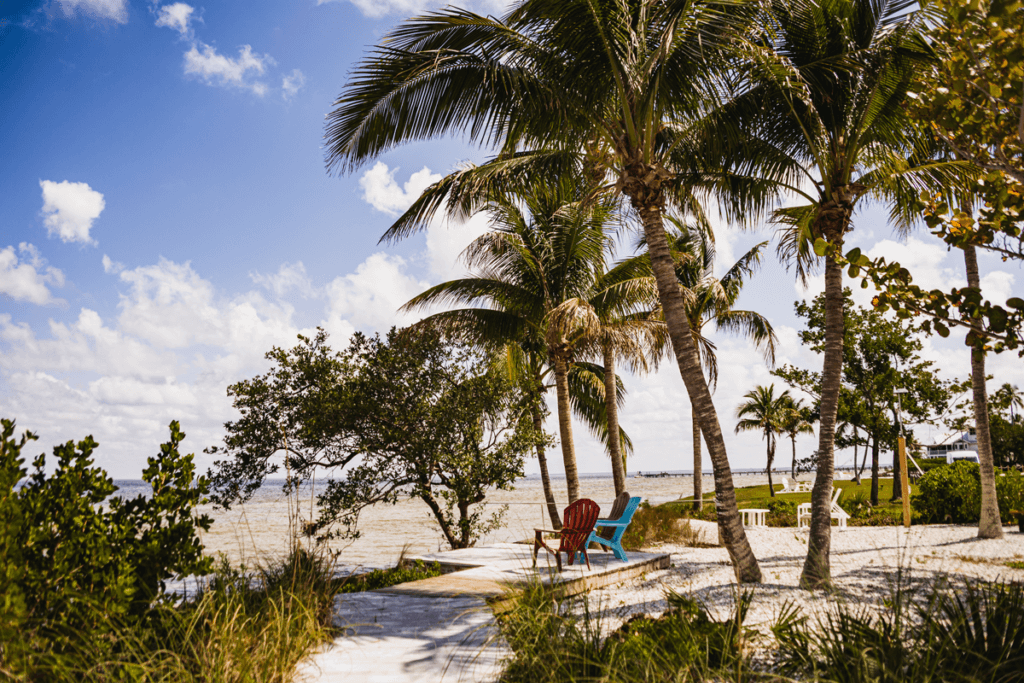 Except for the occasional pirate, Pine Island was then basically uninhabited until 1873, when a few fishermen and farmers made this remote island location their home. The first bridge was built in the 1920s, and the residential canals were developed in the 1960s making Pine Island a more appealing location for full-time and seasonal residents.
Fishing and farming remain an important part of Pine Island Life, and more recently we've seen the arrival of eclectic gift shops, art galleries, and marinas. Today Pine Island's four distinct communities boast of having no traffic signals, tolls, or high rises making it the perfect place to step back in time to Old Florida.
For more history of our island be sure to visit the Museum of the Islands.
Art & Music
Home to authors, songwriters, poets, and artists, Pine Island is known as Florida's Creative Coast.
Pine Island is known for its funky little art galleries and specialty shops offering fine art and crafts created by talented artists both local and global.
All year long visitors and residents enjoy the abundant creativity of Pine Island:
Most galleries are open all year
Live Music on Pine Island
Join the Pine Island Writers group to share creative stories and poems.
Visit our local restaurants that offer live music weekly.
Book signings are held at local shops
Attend Singer/Songwriter workshops
Take Art classes from local artists/craftsmen
Check our Member Directory for a list of our art galleries and specialty shops
Shopping
You will receive a warm welcome with a hometown neighborly spirit. Whatever your preference: shopping the galleries for art by local artists, buying fruit trees and palms, or finding tropical resort clothing, it's all here! Check our business directory for a comprehensive list. Or just ask any Islander and they will be happy to direct you to a great shopping experience.
Dining & Lodging
Pine Island offers a wide array of restaurants. Fresh seafood plucked from the surrounding waters is the featured item. Many also serve locally grown tropical fruits and produce. Stone crabs, shrimp, clams, snapper, grouper, tripletail, and smoked mullet are just some of the catch that is found on Pine Island. From fine dining to bar menus, fast take-out to leisurely waterfront dining – there is something for everyone's appetite. Click here for our restaurant directory
Pine Island has numerous small, locally owned and operated accommodations. Whether you prefer a quaint bed and breakfast, spacious condo, private home, RV Park, or waterfront lodge, visitors always find a relaxing and friendly place to stay. Click here for our lodging directory.
Fishing & Boating
Pine Island's fishing heritage stretches back at least 1,700 years to the Calusa Indians, who lived abundantly off the wealth of seafood in our area waters.
Commercial fishing has supported generations of island families, and sports fishermen long ago discovered the abundance in the Pine Island waters. Perhaps the best tarpon fishing in all the world lies just north of Bokeelia, in Boca Grande Pass. Other popular game fish are snook, redfish, trout, grouper, snapper, cobia, mackerel blacktip shark seabass, sheepshead, and many others. Pine Island is a fisherman's paradise.
You can fish off the Matlacha drawbridge known as "The Fishingest Bridge in the World" or hire one of our local captains and let him or her guide you to some nice fresh fish.
For those who just love being on the water, we are a boaters' paradise! Boating on Pine Island is fun for the entire family. It is a day-long boat ride to just cruise around the entire island. There are dozens of beaches and islands within easy boating distance where you can picnic, shell, explore, hike, or just play in the water. From big boats to kayaks, it matters not as there is something for everyone. Enjoy the fun of having a boat full of family and friends while a few dolphin play in the wake of your boat. Bring your own boat or take advantage of the boats and kayaks that are available for rent and charter from our many marinas. Sightseeing, sailing, fishing, kayaking, nature tours, sunsets, or a water taxi to our nearby bridgeless islands are all available year around.
Be sure to visit the Recreation Section of our Member directory for lists of our numerous fishing and boating choices.
---
---
Our nice Florida weather encourages all of us to get outside and enjoy the fresh air. On foot, by bicycle, or by kayak one can escape the everyday and explore the hidden corners of our island.
Biking
From the southern tip of St James City to the northern tip of Bokeelia, biking enthusiasts can take the 16-mile bike path to leisurely enjoy the sights: a perfect way to spend the day. Along the way take time to spot some of our painted poles. Fifteen years ago the Pine Island Chamber of Commerce introduced a program to paint many of the electric poles with scenes depicting our island. Scattered throughout the island and in Matlacha, you'll see many as you tour the bike path. Mangos, eagles, turtles, pines, and palm trees are just some of the paintings you'll see. Not too sure you want to take the entire path? There's plenty of parking at the "Winn Dixie Plaza" just south of the 4-way stop at the center of the island.
Hiking
Take a stroll, watch for birds, and explore the nature preserves of the island. St. Judes Trail, on Stabile Road or Flatwoods Preserve, on Stringfellow Rd in St James City are just two of many walking trails. From flatlands to mangrove forests, birds and wildlife make these areas home, so bring your binoculars. The Calusa Land Trust, a nonprofit island organization that manages these properties has a full list of preserves on its website.
Kayaking
Lots of backwater areas to explore. Launching sites are scattered around the island, so there are plenty of areas to choose from. Mangrove tunnels, narrow canals and open bay areas are just some of the sights you'll enjoy. Pine Island is part of The Calusa Blueway paddling trail of SW Florida. You can find detailed information on the entire trail on their website:
Wildlife
Pine Island's secluded and unspoiled location attracts many varieties of exotic wildlife.
For Bird Watchers, more than 17 pairs of American Bald Eagles can be seen soaring over Pine Island skies. Osprey can be seen dotted all over the island, with nesting season in the winter, they are always fun to watch. Many varieties of heron, roseate spoonbills, pelicans, egrets, and ibis also call Pine Island home and can easily be seen as you explore our beautiful island.
The abundance and variety of beautiful tropical plants that grow and bloom here give us vibrant splashes of color all year long. They capture the eye of many artists and photographers and the hearts of all who see them.
The waters of Pine Island Sound are rich with marine life. Endangered manatees can be seen in area waterways and dolphins frolic in our aquatic preserves. It is always exciting to spot tarpon, loggerhead sea turtles, leopard rays, and many more species of tropical marine animals.
When you are making your list of things to bring to Pine Island, don't forget your camera and binoculars!