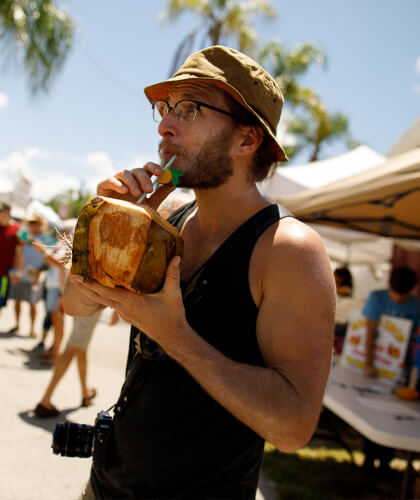 MangoMania 2023
MANGOMANIA
PINE ISLAND'S TROPICAL FRUIT FAIR
Thank you to everyone who came out and supported our annual event, We appreciate you.
DATE: 2024 date TBA
TIME: 9:00am – 4pm
LOCATION: Our Lady of Miraculous Medal Church, 12175 Stringfellow Rd, Bokeelia, FL 33922
Donation of $5 for adults
Children under 10 are free.
The Greater Pine Island Chamber of Commerce (GPICC) is excited to announce "MangoMania" – Pine Island's Tropical Fruit Fair.
This event celebrates the wonderful bounty of our island.
Even Hurricane Ian can't keep Pine Islanders from celebrating the beauty of the mango! Pine Island may look a bit different, but our spirit is the same, so come to MangoMania and support local farmers and businesses. The island's tropical fruit farms suffered losses but the local growers will be present at MangoMania this year along with numerous other island businesses.
This fun-filled family event will include:
Tropical Plants & Trees for Sale
Tropical Fruit for Sale
Recipe Contests
Biggest Mango Contest
Creative Mango Games & Contests for Kids of all ages
Dunk Tank
Live Music
Mango & Tropical Fruit Specialty Food and Beverages
Adult Beverages
Planting Seminars with Mango tasting.
Art & Craft vendors
Island Businesses
MangoMania event shirts
For Details please visit. www.MangoManiaFL.net
The boxes below highlight the 2023 activities and sponsors