Pine Island Jet Ski Tours, LLC
Boating Charters/Fishing/Boat Tours, Kayak/Canoe/ Boating Tours, Rentals and Sales
2140 Palm Ave., St. James City, FL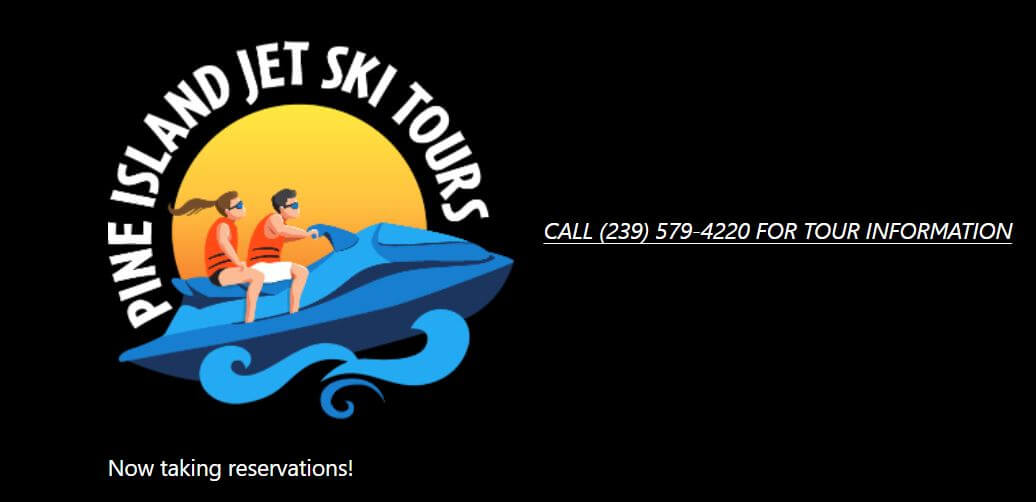 Jet Ski Tours
On our tours you will experience a 30-mile round trip tour through the beautiful San Carlos Bay and Pine Island Sound. We'll take you around Sanibel Island to the Lighthouse built in the late 1800's and through the many small islands surrounding Pine Island! You will learn about the Calusa Indians that inhabited this island, the Spanish conquistadors that searched for the Fountain of Youth and many of the pirates that combed the seas searching for treasure. On this 2-hour tour, you may see many marine wildlife species including Dolphins, Rays, Manatee, Eagles, Osprey, Pelicans, and Cranes just to name a few.
2 Hour Round Trip Guided Trip
$256 per Jet ski
(Up to 2 people or 375 lbs. total weight)
Dolphin and Aquatic life encounters
30 Mile round trip along Sanibel, Captiva and Pine Island
Complimentary photo of your trip
Jet Ski Rentals (Unguided)
On your rentals you'll be able to see all the exquisite areas around Pine Island.
1 Hour $150- Great for beginners
2 Hours (most popular) $210-Visit the Picnic Island
3 Hours $275-Exploration seekers
4 Hours $325-Whole Island Loop, Beach hoppers
Whole Day $525 (8 hours) Life vest, dry box, shelling bag, and map are provided.Brief instructional and safety course will be given so you are comfortable and ready to ride.
Give Pine Island Jet Ski Tours a call today!!
239-579-4220
pineislandjetskitours@gmail.com
https://pineislandjetskitours.com/