Brain Games Inc./Local Flavors Brand
Product Developer and Distributor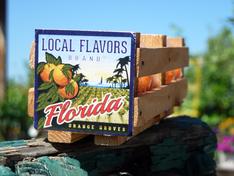 "Long before tourism was the centerpiece of Florida's economy, citrus groves were Florida's number-one industry. Florida's multi-million-dollar crash crop was captured in alluring whimsical images that were applied on wooden citrus and vegetable crates that were shipped to Northern buyers.
The lure of Florida's Tropical paradise depicted on the labels were a work of art. The eye-catching labels not only sold fruits and vegetables, but they also told the story of a land filled with opportunity and stories of individual families".  – Katherine Johnson
Inspired by the artful labels that once adorned Florida's citrus crates, Local Flavors Brand was created.  Local Flavors Brand is family-owned and operated right here in beautiful South Florida. Since our company opened its doors in 2012, we've treated every business partner like they were a part of our family. With over 10 years' experience of retail distribution and vendor relations in the travel and tourism industry, Local Flavors Brand is prepared to meet all your merchandising needs. We deliver unique products specific to your local market and excellent profit margins!  If you need unique one of a kind Florida themed product, please call Local Flavors Brand!  We love everything Florida and take pride in our product offering and our customers.
Local Flavors Brand
304 Indian Trace, #119
Weston, FL 33326
561-662-5782