Ad&PrintCraft Printing & Marketing
Graphic Design and Printing Services
7082 Hibiscus Avenue
Bokeelia, FL 33922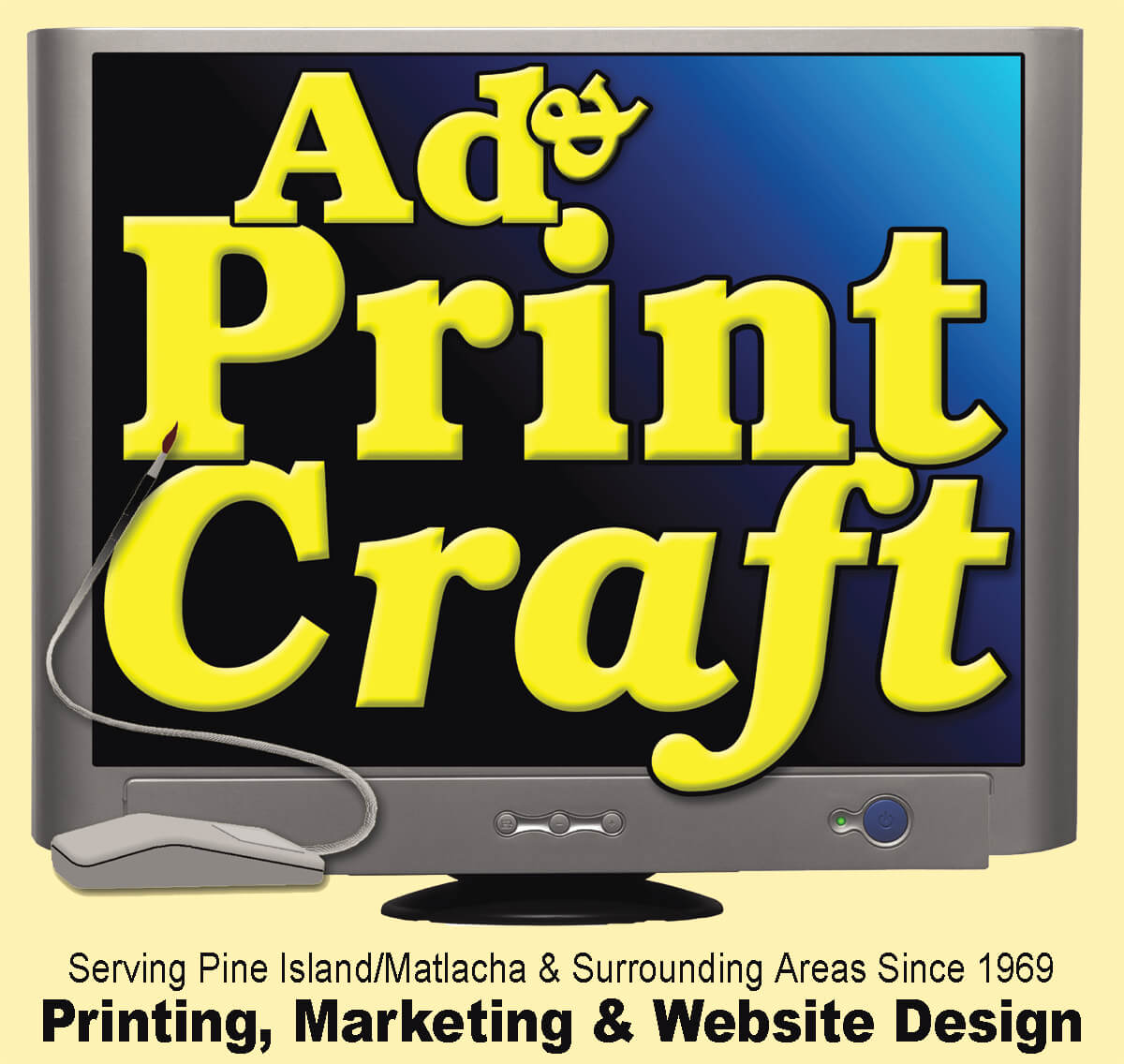 Pat & Mike Burman
7082 Hibiscus Avenue
Bokeelia, FL  33922
4 miles North of Pine Island Center on left
Hours of Operation:
Monday – Thursday 8:30 AM to 5:30 PM
Friday 8:30 AM to 3:00 PM
Saturday by Appointment Only
Publishers of
The Pine Island News
Since 1969
Family Owned & Operated Business
Serving the Pine Island/Matlacha and Surrounding Area Businesses Since 1969
Proud Member of the GPICC since 1969
Proud Board Member since 1990
Full Service Advertising Agency Work at Quick Print Prices
Onsite Offset & Digital Printing Services – 1 to 4 color
Coping • Faxing • Scanning
Marketing • Consulting
Onsite Typesetting, Artwork & Logo Design
New Website Development, Marketing & SEO
Existing Website Updates and Maintenance – Weekly, Monthly, Yearly
Increase Your Ranking on Search Engines & Convert your site to be Mobile Ready
SEO and E-Commerce Sites.
Internet & Print Marketing Strategies
Quality Offset and Digital Printing Services
24 hour Short Run black & white copy jobs.
High Quality Offset Printing & Short Run Digital Printing
(1 – 6 color printing)
Stop by to view samples . . . . . the Coffee is on.
Forms, Checks, Letterheads & Envelopes, Rack Cards, Brochures, Business Cards, Poster, Flyers, Tickets, Real Estate Sales Flyers, Program Guides, Menus, Note Pads,
Rubber Stamps, Invitations and Announcements ……. etc.
Other Service On-Site
Typesetting and Design using state of the art programs.
Bindery Services, Numbering, Folding, Collating, Stitching, Padding, Hole Drilling, Round Cornering, Laminating, Perfect Binding.
Complete Darkroom Services and Photographic Services
Copying, Faxing, Scanning and Email Services
Signage & Banners etc . . .
Website Services
Design, Hosting & Weekly/Monthly/Yearly Maintenance.
Sites are Designed Mobile Ready for high search rating on Google.
A Few Samples Of Our Design and Print Work.
Over 35 years of Customer Service with a Smile….
We are here to help you promote your business…..Give us a Call 239-283-0777